About Us
In April 2001, the Sola family broke ground on the site where the South Pier Inn is located today. Construction continued through the following winter, and in May 2002, the Duluth hotel opened for business. Following its grand opening, the South Pier Inn received national acclaim, drawing media attention from such notable sources as the Minneapolis Star Tribune and the New York Post. In December 2013, the South Pier Inn was awarded "Property of the Year" by the Minnesota Lodging Association. To date, the South Pier Inn is the only Duluth hotel to receive this award. We look forward to continuing our tradition of excellence and providing our guests with a truly unique waterfront lodging experience.
Our Philosophy
The South Pier Inn strives to deliver an unforgettable lodging experience by providing first-class amenities and exceptional service in a breathtaking location. Season after season, we aim to serve as our guests' home-away-from-home, as they experience everything Duluth has to offer.
Frequently Asked Questions
Why South Pier Inn?
The family-owned South Pier Inn provides a wonderful boutique lodging experience in a breathtaking location on Duluth's scenic waterfront, at the foot of the famous Aerial Lift Bridge. Each of our 20 waterfront suites offers premium amenities including whirlpools, fireplaces, private balconies, exceptionally soft linens, plush robes and binoculars. In addition, our well-appointed guest rooms provide an economical option for budget-minded travelers and business guests. Complimentary WiFi and fresh continental breakfast are offered to our guests. Our convenient location adjacent to Canal Park puts you in easy walking distance of great dining, shopping and entertainment options.
Who came up with the idea for the South Pier Inn?
The Sola family, longtime residents of Park Point, had a vision for the land that the inn is built on.
It was a beautiful day in June 2002 when the Solas cut the ribbon for the grand opening of the South Pier Inn.
Duluth Mayor Gary Doty and the youngest Solas – Tommy and Steve – cut the ribbon as the whole Sola family and many community leaders looked on.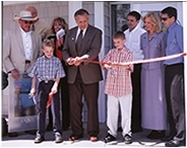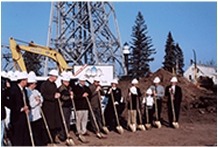 Can I buy a suite?
We have had many inquiries from guests who would like to call this suite 'home'. We want you to come back and stay with us again and again and again, but unfortunately, our units are not for sale.

Does Lake Superior ever get warm enough to swim in?
Well… yes. It won't be the warmest dip you've ever taken, but late July, August and early September bring water temperatures that you can swim in… even without a wetsuit!

What is the difference between the Canal View and the Harbor View?
If you are staying in a "Canal View" suite, you have a fantastic view of the Aerial Lift Bridge, downtown Duluth, and the ship canal.
If you are staying in a "Harbor View" suite, you overlook the vast Duluth/Superior Harbor, and can enjoy beautiful sunsets right from your own balcony.
What is the there to see in the Winter at the South Pier Inn?
Massive ships frequent the Duluth/Superior Harbor from late-March until mid-January, so our guests enjoy marveling at thick layers of ice caked on the bow of these vessels. Duluth and the surrounding area have become a popular location for bird watchers, so you never know when you might spot an owl, or perhaps an eagle perching upon a floe of ice. Ever watched the Northern Lights? Duluth's northern latitude and low light pollution makes it a great destination for those in search of the Aurora Borealis. And the sunsets are second to none, regardless of the season!
Want to learn more about us? Just click here to send us an email!